JOIN 10,000+ SMALL BUSINESS OWNERS, SEOS, AND SOCIAL MEDIA MARKETERS & GET FREE TIPS & TRAININGS WITH MY NEWSLETTER:
Marketing with Katt Wagner
Hybrid Marketing Solutions for Small Business
"Helping businesses go from underdog to top dog in their market is an unbeatable feeling'"

— Katt Wagner
---
There's nothing like seeing a business owner go from 'just starting out' to 'killing it!'"
That is my purpose.
I ignite business growth through comprehensive social + SEO strategies, creative content development, and strategic consulting, so businesses can break through the noise, connect effectively with their target audience, and consistently achieve their growth ambitions. My approach helps people go from an idea to an unbeatable brand identity, with a clear marketing strategy that resonates seamlessly both online and within their local communities.
Collaboratively, we can build a solid foundation for your business and leave a lasting impression in the ever-evolving marketplace.
Strategy & Growth Specialist
My specialization is helping individuals and small teams build their brand presence from the ground up and break into new marketing channels.
From brand names to keyword research to content strategy, I've helped:
Influencers scale to audiences of 10,000+
Entertainers go from small events to sold out arena venues
5000+ real estate agents embrace niche specialization
Restaurants double their foot traffic
YouTube creators triple their growth
Successful businesses scale by branching into new marketing channels
With my background as a marketing director for small teams and start-ups, I have the skillset and experience to direct aspiring brands and businesses towards tangible and practical growth.
The Brand Hacking Project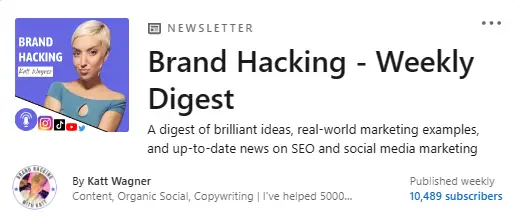 In addition to my dedicated consulting services, I started Brand Hacking as a passion project. This pro bono educational endeavor allows me to share my knowledge and insights with anyone eager to decode and master the intricacies of the digital realm. 'Brand Hacking' stands as a testament to my dedication to promoting business growth, emphasizing that resourcefulness, perseverance, and the right guidance can lead to success, regardless of the initial resources at one's disposal.
Here's an introduction to how I can help you:
Unlock your business's true potential with personalized coaching and expert consulting services. Gain valuable insights, refine your strategies, and elevate your performance to achieve remarkable growth.
Captivate your audience and motivate action with compelling and persuasive copy. My experience in UX design ensures messaging and elements work together to get your audience to take action, wherever they see your message. Moreover, my experience in building businesses through content has allowed me to develop a unique hybrid approach to social media and SEO writing. This means I can craft copy that's highly shareable and loved by search engines.
As someone that knows and loves the startup hustle and grind, I excel at guiding entrepreneurs through the early stages of their business journey and in launching new marketing campaigns to complement what's already working. My comprehensive marketing services focus on establishing a strong foundation and self-sustaining campaigns that drive growth. Once your startup has successfully launched and gained traction, I'm ready to pivot to a new project, bringing my expertise and passion to the next exciting venture.
More ways I can help you start, sell & grow
Looking for a custom quote or aren't sure where to start? Get the ball rolling by sending a simple message below. I'll happily respond within 24 business hours!