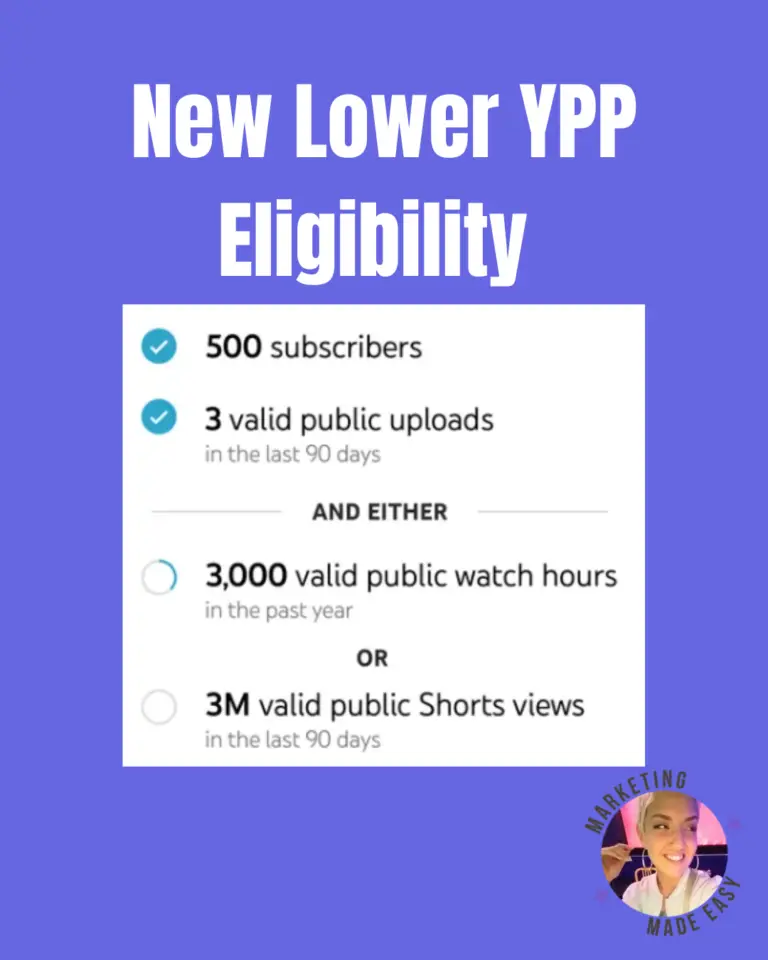 YouTube's latest update makes it easier for creators to monetize through lowered YouTube Partner Program criteria and new shopping experiences.
…Before we jump in, you might also want to check out how to create a YouTube subscribe link (there's a free generator to make it easy!)
Lower Eligibility Criteria for YouTube Partner Program
In June's YouTube update, the platform announced significant changes to its Partner Program (YPP) that will provide creators with easier access to monetization features and expanding opportunities to earn money on the platform. This YouTube Partner Program Update 2023 includes the introduction of lower eligibility criteria, empowering creators to monetize their content at an earlier stage.
Earlier Access to Fan Funding Features
As part of the YouTube Partner Program Update 2023, YouTube is introducing earlier access to YPP by expanding the eligibility criteria for fan funding features. Creators who meet the new requirements can start earning on YouTube sooner through fan funding features like channel memberships, Super Chat, Super Thanks, and more.
The new eligibility criteria for the YouTube Partner Program includes:
Minimum of 500 subscribers
Three public uploads in the last 90 days
Accumulation of 3,000 watch hours in the past year
Achievement of 3 million Shorts views in the previous 90 days
This expansion of fan funding features provides creators with additional ways to engage with their audience and increase their earnings. In December 2022, the United States witnessed a significant growth of over 20% in the number of channels earning a majority of revenue from Fan Funding products compared to the previous year.
Initially, this new level of YPP will be available to creators in the United States, United Kingdom, Canada, Taiwan, and South Korea, with plans for further expansion to eligible countries over time.
Expanding YouTube Shopping Affiliate Program
Alongside the YouTube Partner Program Update 2023, YouTube is expanding its YouTube Shopping affiliate program to provide eligible creators, who have reached a higher stage in their YouTube journey, with more monetization opportunities. Creators with over 20,000 subscribers and who are part of the YPP can now feature products from various brands and creators in their videos and Shorts. By tagging these products, creators become eligible for competitive commission rates on sales generated from those tagged products.
This expansion of the YouTube Shopping affiliate program allows creators to seamlessly integrate shopping experiences into their content, enhancing their earning potential. YouTube has partnered with over 50 brands, including Nordstrom, Sephora, Ulta Beauty, and Wayfair, spanning categories such as beauty, tech, home, and apparel.
It is important to note that these updates to the YPP and the YouTube Shopping affiliate program do not impact the existing criteria for earning ad revenue on the platform. Creators will still need to meet the established eligibility requirements to unlock revenue sharing from ads.
Supporting Creator Growth and Competing with Other Platforms
This YouTube Partner Program Update 2023 reflects YouTube's commitment to supporting the growth of creative entrepreneurs and their success in the ever-evolving landscape of content creation platforms. By providing easier access and expanded opportunities for monetization, YouTube aims to stay competitive in the industry.
As YouTube continues to innovate and enhance its offerings, creators can explore new revenue streams and deepen their connections with their audience through engaging and monetizable content.
YouTube will be discussing these updates and opportunities at VidCon, an annual event that brings creators and fans together. The platform looks forward to engaging with creators, celebrating their achievements, and exploring further avenues for growth.
Stay tuned for more updates on YouTube's initiatives to empower creators and foster their success in the dynamic world of online content creation.