How to Create Custom QR Codes with Canva: The Ultimate Guide
In the digital age, QR codes have become a popular way to quickly and easily share information. QR codes, or Quick Response codes, are a type of barcode that can store and transfer information with a simple scan using a smartphone camera. With Canva, creating QR codes has never been easier, and in this post, we'll explore everything you need to know about creating custom QR codes with Canva.
Listen or Watch: Best QR Code Generator App for Canva with Tracking & Branding
Table of Contents
What Can a QR Code Link To?
QR codes can link to a variety of different types of information and media, including links, vCards, PDFs, email addresses, images, social profiles, custom URLs, audio files, display text, apps, slide decks, and maps. This makes QR codes incredibly versatile and useful for a wide range of purposes.
10 Types of Media You Can Turn into a QR Code
Links
vCards
PDFs and Slide Decks (.PPTX)
Email (Send To)
Images
Link Tree/Directory
Social Profiles
Audio Files
Apps
Maps (Directions!)
Canva vCard QR Code
One of the most common uses for QR codes is to store and share vCard information. A vCard is an electronic business card that can include your name, contact information, and other details. In Canva, you can create a QR code that links directly to a vCard, making it easy for people to add your information to their contacts. You can also turn your vCards into print-ready business cards in Canva, which is super convenient.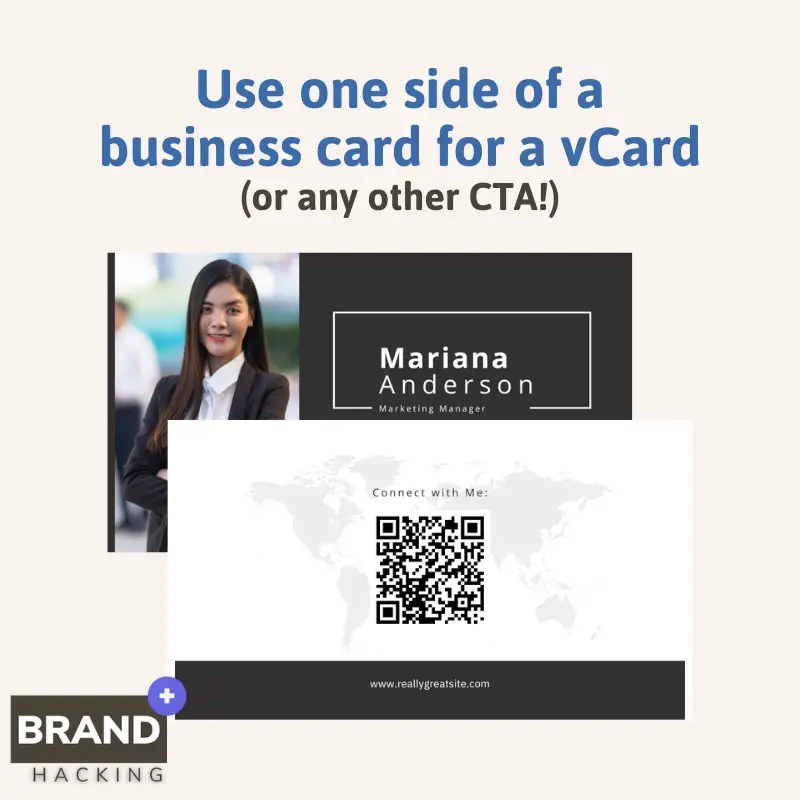 Is Canva QR Code Free?
Yes, Canva's built-in QR code generator is completely free to use. There are no ads or costs associated with creating a QR code in Canva.
If you want to use a more advanced QR code generator, such as ME-QR, there are free options with ads or premium membership options. ME-QR costs $99 per year for a premium membership, which allows you to remove ads.
Where to find Canva's QR code generator
Canva's QR code generator can be found in the "Apps" tab in the left-hand sidebar of a project. Simply search for "QR" and look for the "QR" app to start creating your QR codes.  You will also see some third-party app integrations as additional options.
Create a QR Code with Canva
Creating a QR code in Canva is easy and straightforward. First, open Canva and create a new 1×1 project. Then, select "Add an Element" from the top menu and type "QR code." Canva will prompt you to use the QR code app.  If this option doesn't pop up, you can also find it by selecting "Apps" and searching "QR code" here.  Then, enter the information you want the QR code to link to, and Canva will generate a scannable QR code for you. You can customize the project file with colors, images, and text to make it more visually appealing, or leave it as a standalone QR code.
When you're done, select "Download" from the top menu and choose the file type you want to save it as. You can save your QR code as a PNG, JPG, or SVG file.
Saving a Canva QR Code with a Transparent Background
In Canva, you can create a QR code with a transparent background by selecting the PNG file type when you save the QR code. PNG is a lossless image format that supports transparency, so you can easily create QR codes with transparent backgrounds that can be used on any background color or texture. You can re-upload your QR code to Canva as an image or as a logo to easily use in future projects.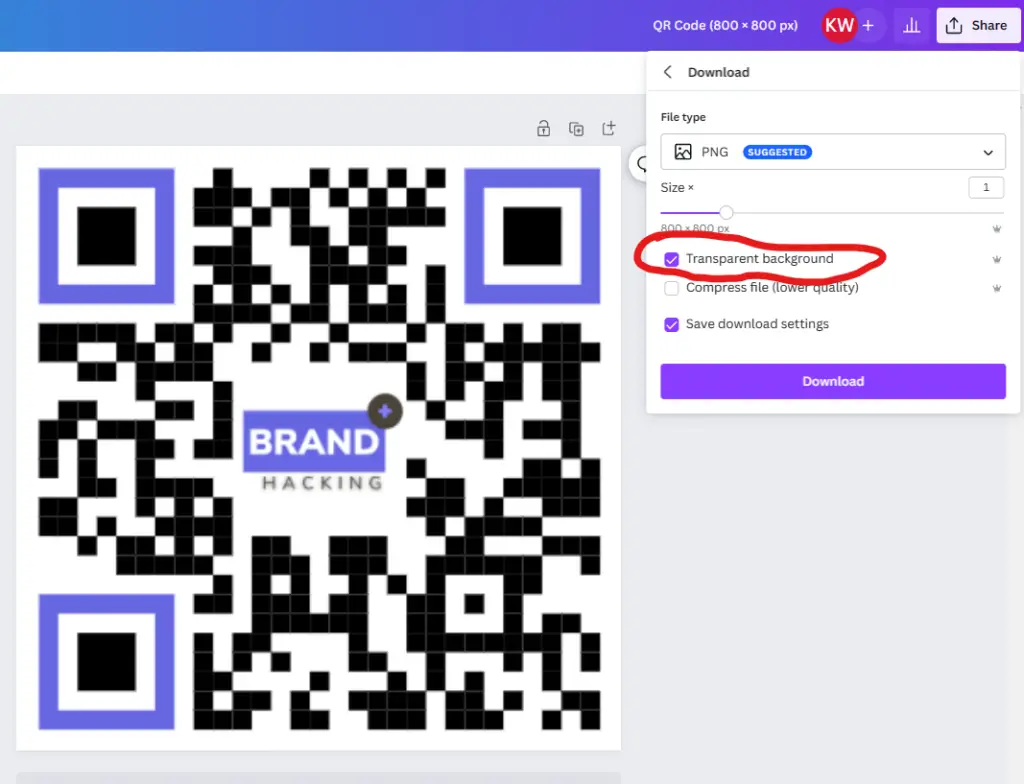 What can you do with a QR code? 
QR codes can be used in a variety of ways to enhance your marketing efforts. For example, you can use QR codes as a call-to-action, directing users to register for an event, purchase tickets, get directions, listen to an audiobook, or watch a video. You can also use QR codes to provide information, such as ingredients for a recipe or a video walk-through.
Does Canva QR Code Expire?
No, Canva QR codes do not expire. However, it's important to keep in mind that the information that the QR code links to could change, so it's a good idea to check the link regularly to make sure it's still valid.
Canva QR Code Limitations
Canva's QR code generator is a simple and easy tool for creating quick response codes for your marketing and design needs. With just a few clicks, you can turn a URL into a scannable QR code that can direct users to your desired destination. However, there are a few limitations to keep in mind when using Canva's QR code generator.
One of the main limitations is that Canva's QR code generator only links to URLs. If you want to link to other types of media, such as text, audio, PDFs, or images, you will need to use a different QR code generator.
Another limitation of Canva's QR code generator is that it is not trackable. This means that you won't be able to see how many times your QR code has been scanned, which can be useful information for measuring the success of your marketing campaign.
Additionally, the QR code itself cannot be branded. However, you can brand around the QR code by adding custom graphics or text to your design. This will help your QR code stand out and make it more recognizable as a part of your brand.
Canva QR code tracking for numbers of scans
If you want to create a trackable QR code, you have two options. The first option is to use a custom URL and website analytics. When you create your trackable QR code in Canva with the native QR generator, you can insert a custom URL that redirects to your desired destination. Then, you can use website analytics tools, such as Google Analytics, to track clicks and impressions on that custom URL. This way, you can monitor the effectiveness of your QR code and make improvements as necessary.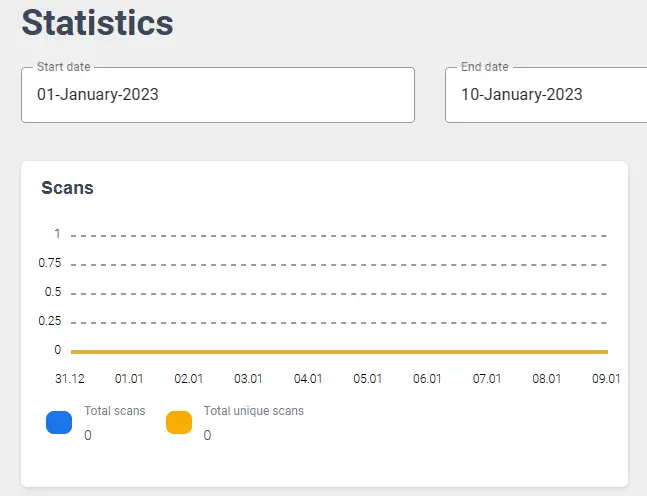 The second option is to use an easy trackable QR code creator like ME-QR. When you use ME-QR in Canva, you can create a custom QR code design and track scans in real-time. ME-QR also allows you to customize your trackable QR code with a center logo, different colors, and dot styles. With ME-QR, you can easily see how many people are engaging with your QR code, and use that information to improve your marketing strategies. Whether you choose to use the native QR generator in Canva or a QR code creator like ME-QR, tracking your QR code will help you better understand your audience and make informed decisions about your marketing efforts.
Create a Canva QR code with logo
If you want to add a touch of branding to your QR codes, you have two options in Canva. The first option is to use Canva's built-in QR code generator and add your logo somewhere around the code. To do this, simply create a new project, select the QR code option, input the URL you want the code to link to, and download the code. Then, add your logo or branding elements around the code in the same project and download the final design.
Another option is to use ME-QR, an app that integrates with Canva and provides you with the ability to create branded QR codes. To get started, simply go to the "Apps" tab in Canva, search for ME-QR, and sign up or log in. With ME-QR, you can track scans, customize your QR code design, and even add your logo to the center of the code. To do this, simply upload your logo image and select it as the center image in the design options. With ME-QR, you can create a fully branded QR code that can be used in all your Canva projects.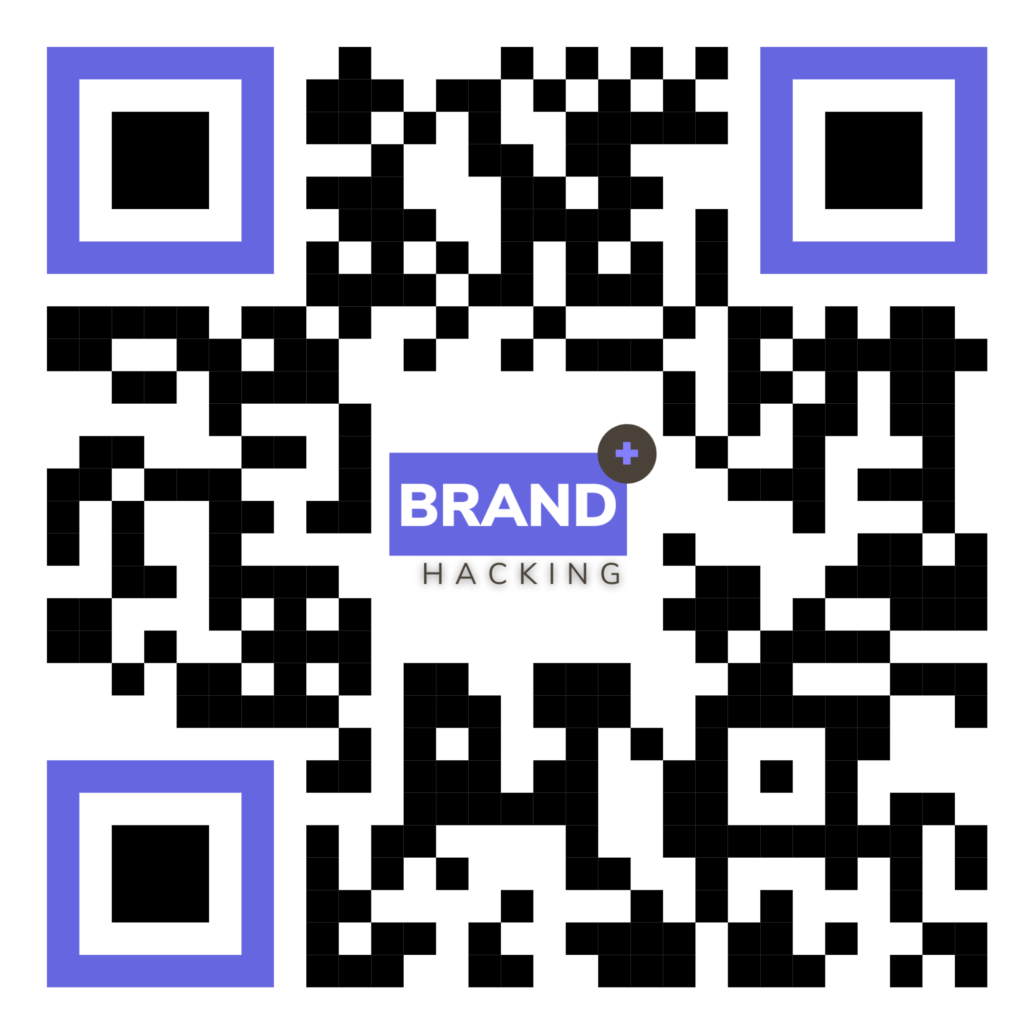 How small can a QR code be
The minimum size of a QR code is around 21×21 pixels, but a more typical size is around 200×200 pixels. However, it is important to keep in mind that the smaller the QR code, the more difficult it may be for someone to scan it, especially if they are using a smartphone camera. If you plan to print the QR code on larger materials like posters or banners, it is recommended to keep the size of the code larger than 200×200 pixels to ensure that it is easily scannable.
In terms of file size, QR codes typically have a small file size, making them ideal for use in digital and print materials. However, if you plan to print a QR code at a large size, it is important to make sure that the file you are using has a high resolution. This will ensure that the QR code appears clear and crisp, even when it is enlarged. A resolution of 300 dots per inch (dpi) is generally considered to be the minimum acceptable resolution for printing a QR code. If you are using Canva to create your QR code, it is recommended to download the code as a PNG file, as this format supports high resolutions and transparent backgrounds.
25 Example CTA ideas to drive conversions with QR codes
As a business owner or marketer, it's important to think about the customer experience and find ways to drive engagement and conversions. One creative and effective way to do this is by using QR codes as call-to-actions (CTAs). QR codes can be used to easily direct customers to a specific page, content, or offer. By adding a simple "scan here" prompt, customers are encouraged to use their smartphones to scan the QR code and quickly access the content or offer. Here is a list of 25 ways to use QR codes as CTAs to drive engagement and conversions.
Scan here to:
Get started
Experience the demo
Learn more
Claim your offer
See the menu
Get your voucher
Take a tour
Watch the video
Join the newsletter
Download the app
Follow on social media
Book a tour
Get your free trial.
Save 20%
View listing
Tour virtually
View ingredients
Get recipe
Join group
Download your free course
Get your free gift
Register now
Get tickets
Get directions
Watch on YouTube
From registering for an event, to watching a video walk-through or downloading a free course, the possibilities are endless.
It's time to get to creating! Canva's QR code generator is a great tool for quickly creating QR codes for your marketing and design needs. While there are some limitations, such as only linking to URLs and not being trackable, you can still create effective and eye-catching QR codes by branding around them. For more advanced features, consider using ME-QR's app integration in Canva.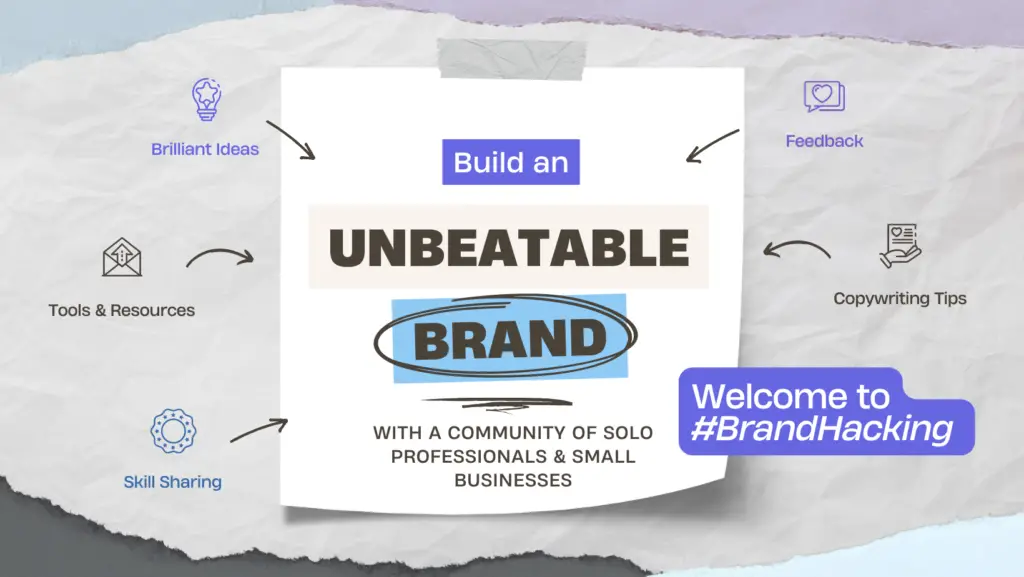 Want to keep learning? Join our Facebook Group
Explore: Digital Door Knocking Checklist: 25 Action Items for Effective Outreach