How to show up in local SERPs on Google: 6 Tips on going hyperlocal vs. local for SEO
Are you looking to show up in local search results near your location? Let's go over the difference between hyperlocal vs. local SERPs and how to ensure your content is optimized for the local market.
Table of Contents
Stream This Guide:
YouTube Timestamps:
0:00 What is a local SERP?
1:09 How does a local SERP display on Google or Bing?
1:53 What does a hyper-local SERP look like on Google and Bing?
3:05 How does Google determine local vs. hyperlocal intent behind search terms?
4:34 Actionable steps for hyperlocal and local SEO that help Google
5:46 Using image SEO for hyper-local SERP visibility
6:30 Optimize your Social Profiles and Posts for local visibility6:59 What if my business doesn't have a physical location for Google?
What is a SERP?
SERP stands for "Search Engine Results Page, "which refers to the page displayed by a search engine in response to a user's search query. The SERP includes a list of relevant results (as determined by the search engine's algorithms), such as web pages, images, and videos, along with advertisements and rich results.
SERPs matter in marketing because they determine the visibility and prominence of websites in the search results, which can have a significant impact on a website's traffic and ability to attract and convert visitors. A high ranking on the SERP for relevant search terms can increase brand awareness and credibility, and drive more organic traffic to a website. On the other hand, a low ranking can limit a website's visibility and impact its ability to reach its target audience. For this reason, optimizing for the SERP is an important part of a comprehensive digital marketing strategy. Let's dive into how to show up in SERPs and strengthen your local marketing reach.
Hyperlocal vs. Local Search Intent – What's the Difference?
Hyperlocal: Your search is interpreted as having proximity as a major factor behind your intent!
Local: Location is relevant, city/state/region-specific pages will be shown in SERPs. Map may or may not be present.
Examples of Local and Hyperlocal Search Results Results
Local SERP: Typically contains results with town, city, and state in the title. May or may not feature a map.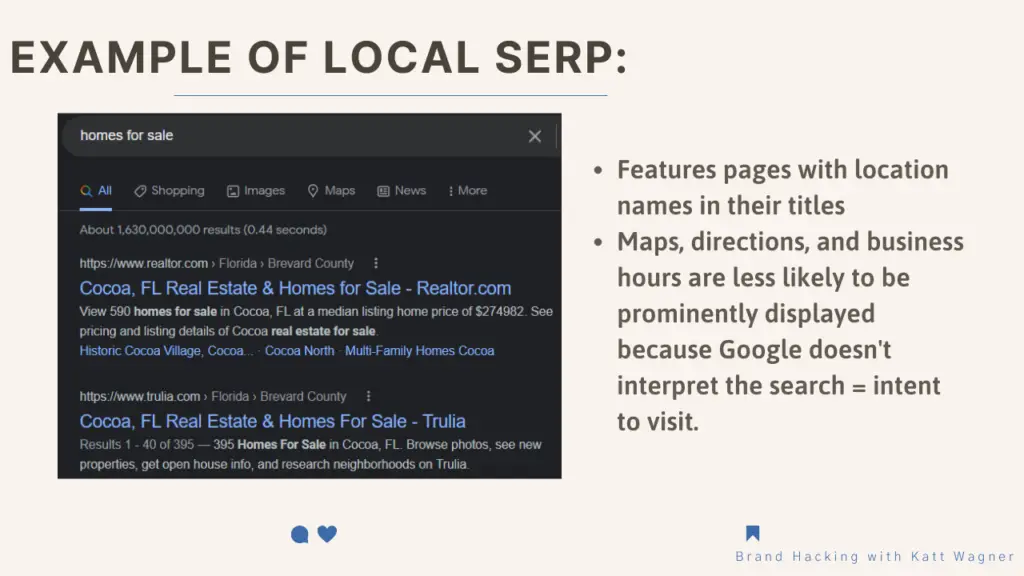 Hyperlocal SERP: Usually features a map and the most proximal results that are relevant to the search. Information displayed includes address, ratings, company name, business hours, etc. You can expand the listed businesses in the top fold to see more business details and click on any for further information or directions to their location.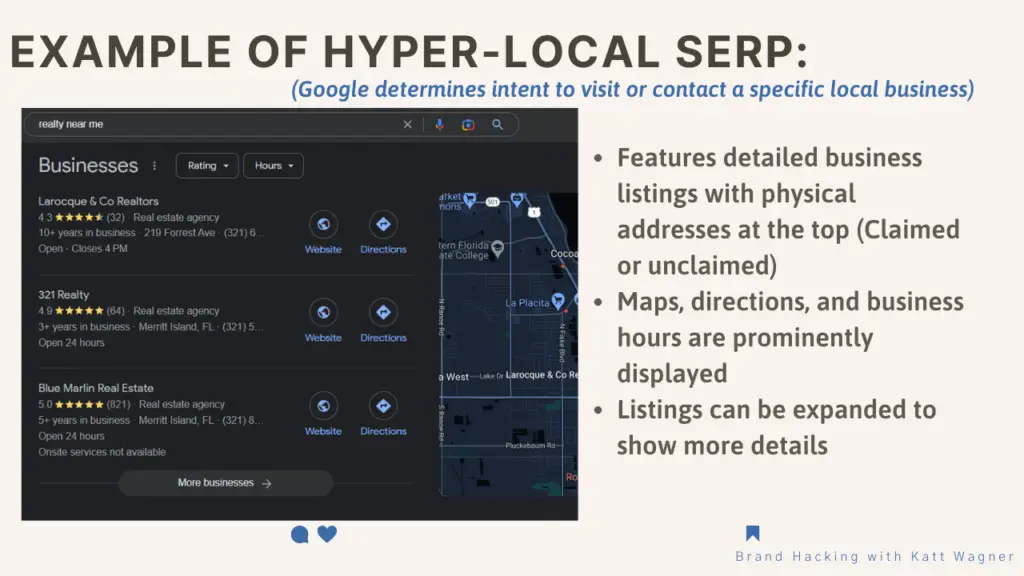 Actionable Tips for Optimizing Your Content for Local Search Engines:
Google has pre-determined how words like "Bank," "Auto Insurance," and "Pizzeria" are classified; however, what's in your power is making sure your content makes it clear what LOCALITIES AND CATEGORIES OF BUSINESS are relevant to your business.
These 6 tips below will help you optimize for local search reach today and on an on-going basis.
Optimize website categories and tags: Make sure your website blog has both KEY LOCATION categories as well as KEY SERVICES categories you offer; this shows Google your relevance to certain locations and services when it comes to searches made by users who live there.
Create a Locations directory page: link those key categories on this page as well so again Google understands its relevance when someone searches within these areas locally.
Optimize titles, headers, and meta descriptions: Use location names in all titles, H2s, and meta descriptions – any place where text appears try incorporating locality names near relevant services!
Optimize images with local keywords: When it comes to images use locality names in image descriptions, and alt text – all parts should include locality-bearing terms so that it's accessible even if images cannot load!
Optimize social media profiles: Social media profiles and content natively uploaded to social media platforms has the potential to show up in local SERPs. It can also help you get discovered by people near you on-platform. Use location keywords in bios/profile descriptions, event descriptions, posts, and service listings when appropriate.
No physical location for Google My Business? It may still be possible to create a "store within a store" at another colleague's business location; just make sure you follow all GMB policies regarding having unique contact numbers, names, and business categories listed appropriately!
Thank you for tuning into the first episode of Brand Hacking. I am excited to cover more content, and you can help me prioritize what tips and tricks to dive into next by commenting below. Learn what Brand Hacking is and be sure to join the Facebook Group!