With the ever-evolving landscape of social media platforms, it's no surprise that Meta (formerly Facebook) has introduced a new way for creators to earn: the Performance Bonus Program. From my own experience and what I've learned of the last few months of the program's rollout, I've put together this guide to help fellow creators understand how to monetize on Facebook as this program evolves.
Table of Contents
What is Facebook's Performance Bonus Program?
The Performance Bonus Program is an invite-only program that offers creators an opportunity to earn money based on interactions on their public Facebook posts. Here's the catch: it excludes Reels and Stories, which is a stark contrast from Instagram's Reels bonus program.
From my own first-hand experience, posts that count towards the bonus program include text posts, image posts, standard video uploads, and carousel posts, as well as posts in eligible formats that originate from Instagram. The program includes up to 3000 posts per period (30 days cycles), and the period can include views and engagements on eligible posts posted up to 90 days earlier.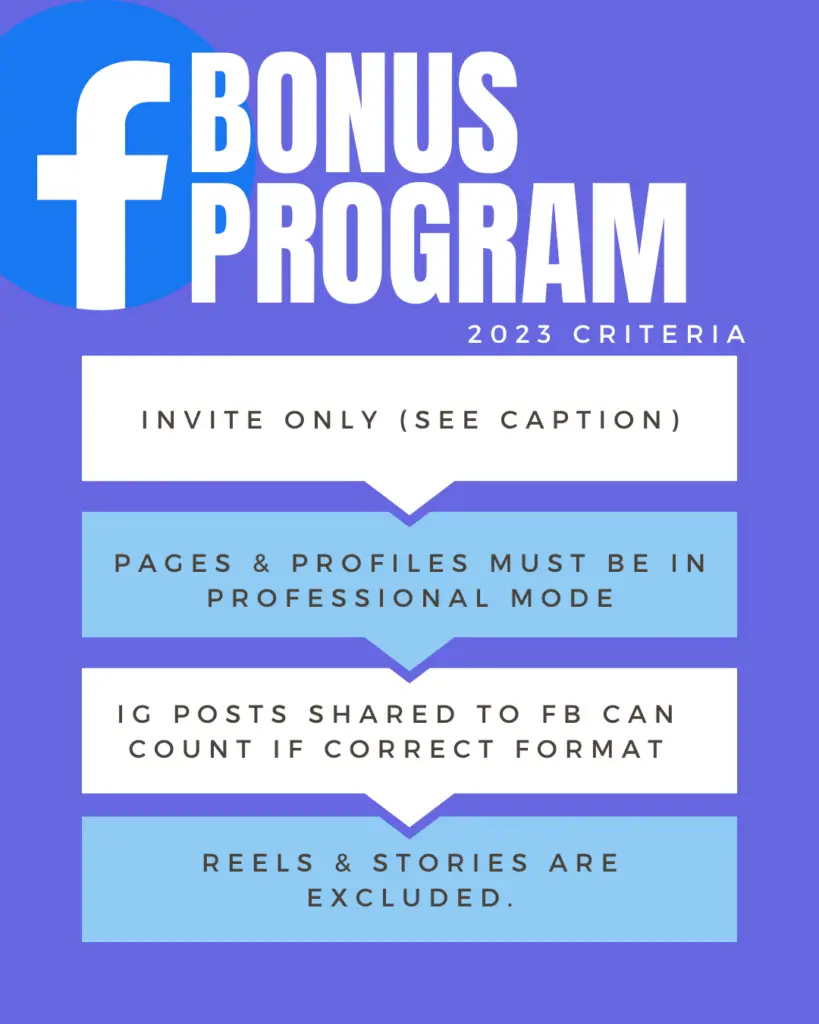 Facebook Bonus Eligibility: What You Need to Know
From my experience, there doesn't seem to be a one-size-fits-all pattern when it comes to who gets invited. Some of my accounts that performed well with the Instagram Reels program didn't get an invite. Yet, I have two Facebook pages that have been invited, despite never qualifying for the Reels bonus program. One even has just over 1k followers and posts static image and text posts exclusively – I was surprised to see this account get an invite to the Performance bonus program as it's never been one of my "viral Facebook content" accounts.
What you need to know is that your Facebook accounts must be set to "professional" mode to be eligible for an invite. So, make sure to adjust your settings if you want to be considered for this program.
Turn on Professional Mode on a Facebook Profile:
If you want a profile to be eligible for the Facebook bonus program, it needs to be in professional mode. At the time of this writing, here are the steps on where to find and change this setting:
Make your way to your personal Facebook profile.
Take a look just below your profile header, you'll spot a menu button (…) on the right side – click that.
From the menu that opens up, select "Turn on professional mode".
Click "Turn on" to confirm and follow through with the remaining steps.
How to Check Your Performance Bonuses
Once you're in, keeping track of your performance bonuses is crucial – and exciting! Here's how you can do it:
On Mobile: Go to Professional Dashboard>Monetization> Bonuses.
On Computer: Go to Meta Business Suite. Navigate to Monetization > Bonuses.
Difference from the Instagram Reels Bonus Program
If you've been part of the Instagram Reels Bonus program, you might be wondering how the Facebook Performance Bonus Program is different. The most glaring difference is the type of content that counts towards your bonus. Reels and Stories, the backbone of the Instagram bonus program, are excluded in Facebook's program. In my experience, even accounts that were successful with Instagram Reels weren't necessarily invited to Facebook's Performance bonus program.
Moreover, the earning potential seems to be significantly higher in the Performance Bonus Program. For instance, one of my accounts that only managed to earn around 1200-1800/mo through the Instagram Reels program was eligible for up to $30k in its first 30-day cycle of Facebook's Performance Program!
Importance of Original Content
One key thing I've noticed throughout my participation in the Performance Bonus Program is the significance of original content. It can't be overstated – creating fresh, unique content consistently is vital for both the visibility of your posts and increasing your performance bonuses.
What does this mean? Well, simply resharing or reposting the same content across various platforms isn't going to cut it. Facebook's algorithm seems to have a preference for original, engaging content that resonates with your audience. If you're migrating from other platforms, it's important to adapt your content to suit Facebook's environment and audience preferences.
Need ideas for content? Check this out: How to come up with content ideas [11 FREE TOOLS]
Tips to Maximize Your Performance Bonus Earnings
Now, let's dive into some strategies that I've found to be successful in maximizing performance bonus earnings:
Post Regularly: Consistency is key. Make a schedule and stick to it. This not only helps to keep your content fresh and engaging but also gives your audience a sense of when to expect new posts.
Engage with Your Audience: Reply to comments, ask questions in your posts, and encourage your audience to share your content. More engagement can lead to higher visibility, which can, in turn, lead to increased bonus earnings.
Diversify Your Content: While the Performance Bonus Program excludes Reels and Stories, this doesn't mean you should limit your content to just images and text. Try incorporating videos, live streams, or even polls to your posts. Diversifying your content could potentially increase your reach and earnings.
Optimize Your Posts: Understand when your audience is most active and schedule your posts accordingly. This could lead to higher engagement rates and, therefore, higher performance bonuses.
Promote Across Platforms: While the Performance Bonus Program is specific to Facebook, promoting your posts on other platforms can help drive traffic to your Facebook page and increase your post engagements.
Remember, Facebook's Performance Bonus Program rewards quality over quantity. So, while posting regularly is important, make sure your content is high-quality, original, and engaging.
In Summary
The Facebook Performance Bonus Program is an excellent opportunity for creators to earn money from their content. Even though it's currently invite-only and doesn't include Reels and Stories, its high earning potential makes it worth giving a try, especially if you miss the Reels program and are willing to embrace other posting formats!
From my own experience earning with this new program, my biggest piece of advice is to make sure your accounts are set to "professional" mode and diversify the types of posts you share. Facebook will send you notifications periodically with comments about your engagement, reach, and consistency – listen to them! Remember, static posts are shining in this program, so adapt your content strategy accordingly.
Stay tuned for more updates as I continue to explore the Performance Bonus Program. You can follow my small and humble Facebook page where I share marketing news and tips. And, as always, happy creating! #facebooknews #meta #socialmediatips #creatoreconomy #contentmarketing